C Natural Ensemble and Theory Club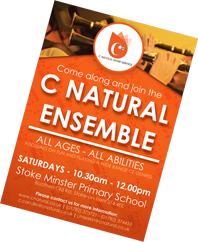 Welcome to the C Natural Music Ensemble!
As part of our Saturday mornings of music, we run a music ensemble suitable for all ages and abilities. Whether you are a low grade or a high grade, we can find a place for you in our fun, lively and friendly group.
The ensemble runs on a termly basis, and charges a small fee of £20 which goes towards music and venue hire.
The ensemble runs on Saturday mornings from 10.30 until 12.00 at Stoke Minster Primary School in Stoke. This is followed by a Theory Club (see below).
Click HERE to view the ensemble poster.
Click here for [directions] or see below for further details.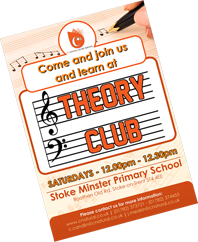 Theory Club
At C Natural, we understand the importance of not only HOW to play, but also what it all means!
In addition to our Saturday morning ensemble, we run a Theory Club for those willing to learn. The club runs from 12.00 until 12.30 on Saturday mornings following ensemble for a small fee of £3 a week. That is a full half an hour of small group based tuition for a fraction of the normal cost!
Please enquire for more details.
Click HERE to view the Theory Club poster.